Steel as a wall cladding
on 25/08/2021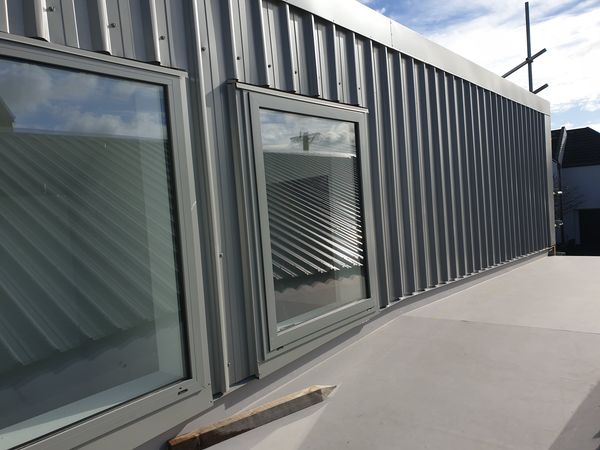 Steel has long been used as a roofing material in New Zealand. Another area in which it proves to be extremely
beneficial is as a material for wall cladding.

What do we mean by cladding?
In simple terms, cladding refers to the coverage of building materials (of a house or other structure) with an
additional layer. This layer exists to protect the building's structure as well as to make the structure look good.
There are many materials that can be used to clad buildings, these include wood (think traditional weatherboard or
ply and batten), fibreboard (which can include 'weatherboard look' styles), stone or brick.

In recent times the use of steel as a wall cladding option has increased. There are many benefits of using steel
cladding, read on to find out more.
Benefits of steel as a wall cladding
Durability
Steel cladding is undoubtedly strong, this means that it can protect the structure that it covers – adding to the
stability of a building. It fares well in harsh conditions, including our high UV levels in New Zealand. Steel cladding
can protect the internal structure it covers from the effects of temperature changes, wind, rain, sunlight and
pollution. The lifespan of steel cladding is also lengthy, particularly when compared to other materials such as
wood.

Non-combustible
Another great feature of steel cladding is that it is non-combustible. This gives it an advantage over traditional
cladding such as wood, as it could be a safer option for your cladding system.

Low maintenance
Steel cladding is a low maintenance material. Due to its resistance to harsh conditions it requires minimal repair
work or maintenance, often a light clean is all that's required to keep it looking its best.

Lightweight and easy to install
Steel cladding is lightweight and the sheets are easy to transport to site and install. It is particularly useful as
cladding for transportable buildings due to its durability (unlikely to become damaged whilst being moved) and
low weight (doesn't add too much to the overall weight of a structure).

Sustainable/Environmentally friendly
Steel is easily recyclable, therefore at the end of its life as cladding it can be made into something else. It is unlikely
that a piece of steel cladding would ever end up in landfill as if it is removed from a building it can be reused for
other applications around a property or sold to a commercial metal recycling facility

Range of profiles and colours
Roofline supply multiple different profiles of steel cladding, so you are highly likely to find a type that will fit your
building. There are also a wide range of colours available, Roofline uses the ColorCote® range of prepainted
products and has over 40 vibrant colours to choose from. Roofline can also create custom colours as required.

Range of alloy coating types
Roofline offer different options for steel cladding coatings. The coating you select will depend on the building's
location and the level of extra protection that is required.

Roofline is a 100% locally owned business, offering a large range of modern, lightweight steel cladding products.
Our experienced and qualified team can supply and install re-roofing products on residential and commercial properties. Get in touch with us today for a free, no obligation quote. You can also see a gallery of our recent projects here.
---
You might also like to read