Invest in a quality roof and wall cladding with vibrant and inspiring colours.
Roofline manufacture roofing parts from the highest quality materials available, right here in Christchurch. Your roof and cladding are the largest and most obvious features of your home or building and, Roofline specialises in adding that visual appeal and value. Spending the time now deciding on which product is right for the design, environment, lifespan and maintenance requirements will reward you with decades of worry-free enjoyment. Spending slightly more now and getting it right may save thousands of dollars and potentially extra work over the life of the roof.
You can come to Roofline for design, manufacturing and installation, we can organise it all, so you only have to liaise with one company in the roofing process.
We can manufacture in Zincalume finish or colour finish available in
Zinacore (Standard Colour),
Magnaflow (Sea Spray) or
Alumigard (Aluminium).
Roofline Roof Cladding is produced in continuous lengths to the exact lengths required. We manufacture in 0.40 gauge or 0.55 gauge.
All Roofline Cladding profiles have a capillary swage to prevent moisture entering the lapped joint due to capillary action.
Roofline will quote off your plans and complete a very competitive quotation to supply and install your Roofing materials. We have a highly skilled and reputable group of installers who can install your Roofing materials.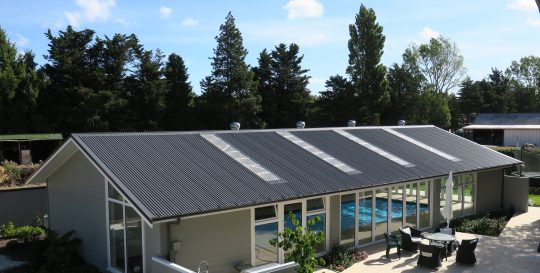 The best value aluminium and zinc coated steel roof that's right for most sites
Suitable for New Zealand's moderate climatic conditions, ZinaCore has a hot-dipped aluminium/zinc alloy coating over a steel substrate. It has a waterborne acrylic or polyester top coat, that uses the latest infrared reflective pigments, baked on a polyester primer, giving an extremely durable paint system that resists UV damage and provides excellent gloss and colour retention.
For more info click here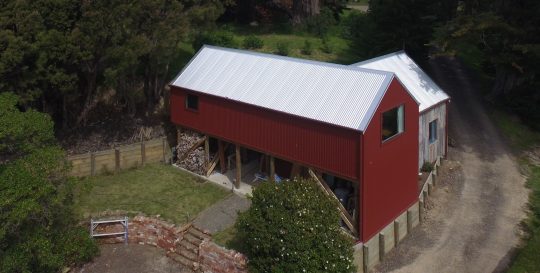 The magic of magnesium uniquely adds extra anti-corrosive protection
The superior corrosion resistance of MagnaFlow means it is an ideal choice for more demanding environments, such as roofs 100m from the coastline. The magnesium in the aluminium/zinc/magnesium alloy coating 'magically' helps zinc flow over cut edges, sealing them and providing long term protection against corrosion.
No other similar-priced metal roofing product offers this superior built-in edge protection.
For more info click here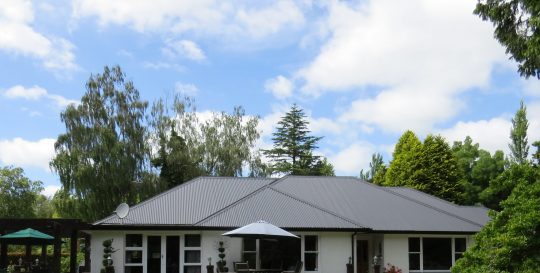 New Zealand's premium metal roofing product, designed to withstand Canterbury's harshest conditions
Suitable for use in 'very severe' marine environments, right up to the waterline, as well as chemical or acidic exposure in harsh industrial or geothermal areas. Aluminium doesn't rust. Under AlumiGard's durable baked-on paint system is the same marine grade aluminium alloy boats are made from.
For more info, click here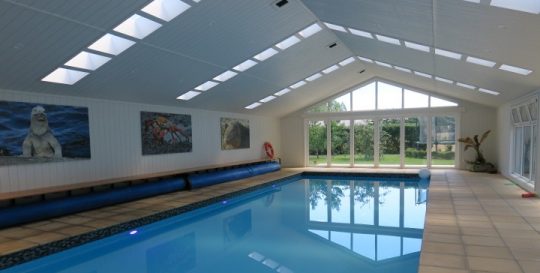 Zincalume® coated steel represents a significant improvement on the traditional zinc coated galvanised steel. Since its introduction, Zincalume® coated steel has gained a major share of the steel building products' market in New Zealand.
Zincalume® coated steel has been formulated to give significantly longer service life than a galvanised coating. This is of particular value in New Zealand where the prevailing winds carry corrosive salt-laden air many kilometres inland.
Zinclume® steel coating combines the corrosion protection of aluminium with the sacrificial protection of zinc, giving the advantages of both metals. The resulting alloy coating enhances corrosion resistance, making it ideal for such applications as roofing and cladding
For more info, click here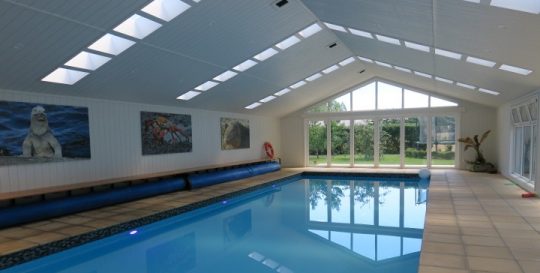 Roofline can still supply galvanised roofing products
Galvanised steel is mild steel with a coating of zinc. The zinc protects the steel by providing cathodic protection to the exposed steel, so should the surface be damaged the zinc will corrode in preference to the steel. Galvanised steel is one of the most widely used products, used extensively in the building sector, automotive, agricultural and other areas where the steel needs to be protected from corrosion.
For more info, click here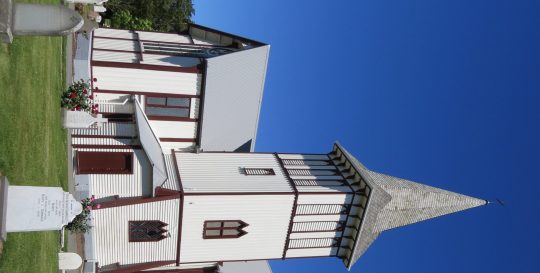 Testimonials
What our happy clients have to say
We have been dealing with Roofline for over 25 years and we have received the same top service everytime

We have only been dealing with Roofline for a couple of years, but now they have their new machines the quailty has been amazing. Their turnaround on Flashings is prompt and they fit like a glove

"We are always impressed with Roofline Canterbury's outstanding service and quality of product"

I would like to thank you and your company for the service you gave me.
All the dealings I had with you were Great. Every thing went smoothly and you kept me in formed. I would highly recommend your company and subbies to any one.
Thanks again

Great service from a friendly team. I have used them for 20+ years now and occasionally check prices and they are never bettered.